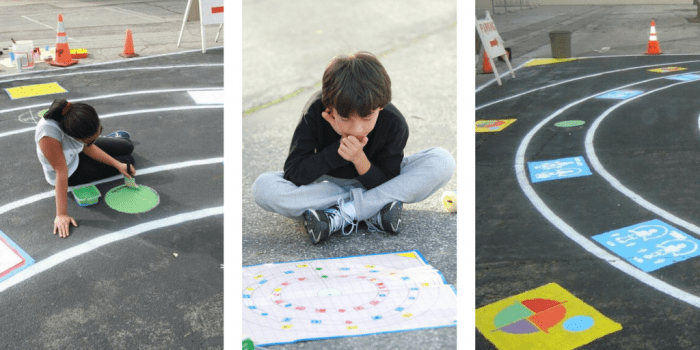 The Ultimate Fitness and Nutrition Recess Game System Created as a Collaborative Effort Between Sandy "Spin" Slade, Inc. and Peaceful Playgrounds, Inc.
The Fitness FunZone® Court is a uniquely designed physical activity court that can accommodate 1 to 50 individuals simultaneously. Its innovative design includes multiple exercise games and activity applications that can be applied as structured or non-structured play. A permanent solution to playground fun, The Fitness FunZone® Court encourages cooperative learning within each of the four core activities: Fitness, Jump Rope, Four Corner and Nutrition.
Schools and Community-based organizations will appreciate the ease of monitoring the activities that address the National Physical Education Standards and HEPA AfterSchool Guidelines that's both effective and efficient.   Ten minutes is all you need to customize your fitness in a variety of ways that improve learning outcomes and allow for maximum to vigorous physical activity!
Watch it in Action!
Overview:
Introduction:
Lesson:
Great for:
Physical Education
After School and 21st Century Learning Programs
Schools PTA's and PTO's
YMCA's, Boys & Girls Clubs
Park and Recreation Programs
Landscape Architects
Fitness FunZone® Court Includes:
12, 3' Fitness Durable Plastic Stencils
12, 3' Jump Rope Durable Plastic Stencils
Fitness FunZone® logo Stencil
MyPlate® Design Stencil
Four Corner Court
Nutrition Relay Activity
24, Jump Ropes
6, Multi-Colored Dice
6, Multi-Colored Beanbags
6, Repetition Dice
60, 5" x 7" Nutritional Cards Aligned with the Food Groups
Site License
Activity Manual
Fold-Out Blueprint
Circuit Training Music CD
Instructional DVD
Paint Machine
6 Cans Contractor Quality White Spray Paint
Convenient Storage Bag
Fitness Skillastics® Activity Kit (for indoor recess use)
Targets: