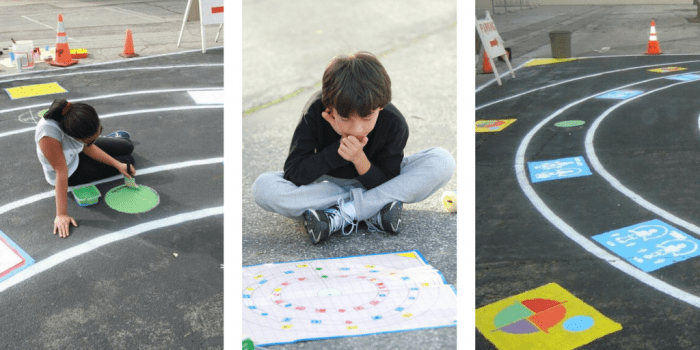 The Ultimate Fitness and Nutrition Recess Game System Created as a Collaborative Effort Between Sandy "Spin" Slade, Inc. and Peaceful Playgrounds, Inc.
The Fitness FunZone® Court is a uniquely designed physical activity court that can accommodate 1 to 50 individuals simultaneously. Its innovative design includes multiple exercise games and activity applications that can be applied as structured or non-structured play. A permanent solution to playground fun, The Fitness FunZone® Court encourages cooperative learning within each of the four core activities: Fitness, Jump Rope, Four Corner and Nutrition.
Schools and Community-based organizations will appreciate the ease of monitoring the activities that address the National Physical Education Standards and HEPA AfterSchool Guidelines that's both effective and efficient.   Ten minutes is all you need to customize your fitness in a variety of ways that improve learning outcomes and allow for maximum to vigorous physical activity!
Watch it in Action!
Overview:
Are you struggling to provide fun fitness activities for large groups outdoors? We've got the perfect efficient and innovative solution. And the benefits include healthy active children with improved learning outcomes. Fitness FunZone www.fitnessfunzone.com "The permanent environmental solution to daily fitness" fun.
Introduction:
Welcome to the Fitness FunZone a quick project developed by Dr. Melinda Bossenmeyer founder of Peaceful Playgrounds and Sandy Spin Slade founder of Skillastics. Fitness FunZone is a do it yourself layout plan for painting and designing your own fitness funzone that students will love.
Lesson:
This is the Fitness FunZone and welcome today we'll gonna have a lot of fun which truly terrific is everything is in this bag. Is that pretty cool? "yes", but I need a little bit of help to get our fun equipment out of here today and we are actually going to start with our jump rope. Ashley, can you come up? Come on up, alright and, and Robin can you come on up? We have jump ropes in here could you give each group a color jump rope.
Orange, back up over here. And green back up over here. And now were all spreadout, we're going to swing it side to side. Were gonna try that, okay terrific. Freeze! Okay next one is if its too hard to do you can jump feet like this. Ready, just like the jump rope, what were learning right now is only 15 seconds, okay, and then it says freeze well the music stops, so what do you do? "freeze". I loved that. Freeze just like this, great job.
Okay, got to the outside line, this is a long jump, so back to the outside line and jump. Here jump rope, let me see your jump rope. Ready and go. Keep going, keep going.
On the outside, when the music is on you are going to jog on the outside line, when the music stops you're going to walk, when the music is on you are going to jog again. Ready, nice and easy jog. And breathe, and if you are in the outside fitness you are going to jump rope you're on the outside. Ready? Rotate. Ready go, come on. Stay on the circle, and now you're walking. Now sit by your lane, alright.
Now who knows what's that plane in front of you? "everything that you can need helping" that is terrific. Can someone tell me, what weve done, we got this unique cards, and lets see what do I have, what do you think the green one represent? "Vegetables" right, you see this, we got string bean. Oh my goodness, and we have red, who get it? Yeah you, "fruit" fruit, what is it? A banana, a banana. B-A-N-A-N-A. Okay very good, and we have purple which we need for protein. And members at a time what I want you to do is tell your place your favorite breakfast, now while the other people are waiting for their turn you are going to be in your area and you're gonna jump rope.
Great for:
Physical Education
After School and 21st Century Learning Programs
Schools PTA's and PTO's
YMCA's, Boys & Girls Clubs
Park and Recreation Programs
Landscape Architects
Fitness FunZone® Court Includes:
12, 3' Fitness Durable Plastic Stencils
12, 3' Jump Rope Durable Plastic Stencils
Fitness FunZone® logo Stencil
MyPlate® Design Stencil
Four Corner Court
Nutrition Relay Activity
24, Jump Ropes
6, Multi-Colored Dice
6, Multi-Colored Beanbags
6, Repetition Dice
60, 5" x 7" Nutritional Cards Aligned with the Food Groups
Site License
Activity Manual
Fold-Out Blueprint
Circuit Training Music CD
Instructional DVD
Paint Machine
6 Cans Contractor Quality White Spray Paint
Convenient Storage Bag
Fitness Skillastics® Activity Kit (for indoor recess use)
Targets: