A Perfect Combination of Cooperative Learning, Physical Literacy, and Mathematics Created Specifically for the Classroom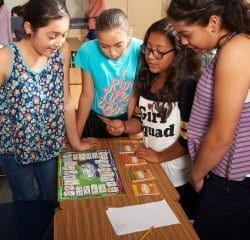 The celebrated Skillastics® technique is now available for the classroom! Mounting evidence has revealed an increase in physical activity for children reduces stress, improves concentration, and enhances academic performance. Be Fit 2 Learn Skillastics® Math integrates movement and creativity with math questioning to create a perfect balance of learning in an atmosphere of fun! Student experience increased learning outcomes by participating in this unique brain break activity that also improves teambuilding and cooperative learning skills.
Cards Range from Second Grade to Sixth Grade
How Does it Work?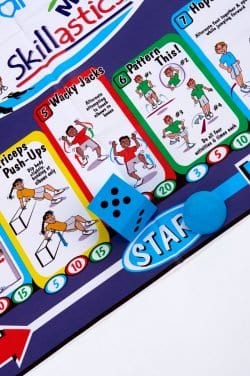 The central mat is smaller, which fits nicely in a classroom environment. Sixty questions for each of the six teams are divided into four mathematical categories like addition, subtraction, money, and time, which are customized for grades 2 thru 6. Mixing and matching grade level cards is a breeze with symbols used to identify each grade for higher or lower performing students. This way only you will know what grade level is being used with each team.
The detailed manual includes QR codes for all 26 physical activities, making it easy to learn the movements and the flexibility of introducing physical activity throughout the day.
Be Fit 2 Learn Skillastics® Math takes kinesthetic learning to new heights by making it easy to move, learn, and have fun in the classroom!
Watch it in Action!  
Targets:
Five Convenient Options to Choose From:
Be Fit 2 Learn Skillastics® Math: Includes One Set of Math Grade Cards –     $179.95
Be Fit 2 Learn Skillastics® Math: Includes Two Sets of Math Grade Cards –    $239.90
Be Fit 2 Learn Skillastics® Math: Includes Three Sets of Math Grade Cards – $299.85
Be Fit 2 Learn Skillastics® Math: Includes Four Sets of Math Grade Cards –   $359.80
Be Fit 2 Learn Skillastics® Math: Includes Five Sets of Math Grade Cards –    $419.75