A Perfect Combination of Cooperative Learning, Physical Literacy, and Mathematics Created Specifically for the Classroom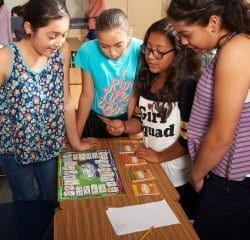 The celebrated Skillastics® technique is now available for the classroom! Mounting evidence has revealed an increase in physical activity for children reduces stress, improves concentration, and enhances academic performance. Be Fit 2 Learn Skillastics® Math integrates movement and creativity with math questioning to create a perfect balance of learning in an atmosphere of fun! Student experience increased learning outcomes by participating in this unique brain break activity that also improves teambuilding and cooperative learning skills.
Cards Range from Second Grade to Sixth Grade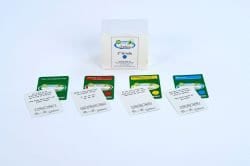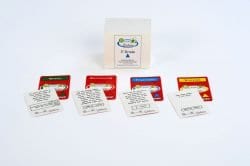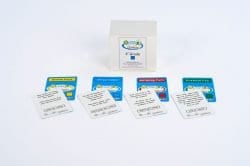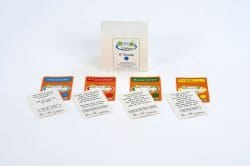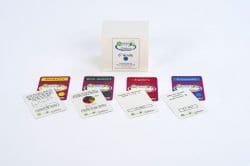 How Does it Work?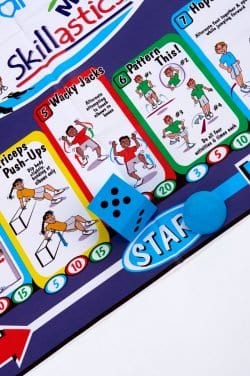 The central mat is smaller, which fits nicely in a classroom environment. Sixty questions for each of the six teams are divided into four mathematical categories like addition, subtraction, money, and time, which are customized for grades 2 thru 6. Mixing and matching grade level cards is a breeze with symbols used to identify each grade for higher or lower performing students. This way only you will know what grade level is being used with each team.
The detailed manual includes QR codes for all 26 physical activities, making it easy to learn the movements and the flexibility of introducing physical activity throughout the day.
Be Fit 2 Learn Skillastics® Math takes kinesthetic learning to new heights by making it easy to move, learn, and have fun in the classroom!
Watch it in Action!  
The celebrated skillastics technique is now available in the classroom with the expectation for classroom teacher to include physical activity into their daily instruction this exciting resource makes it simple and easy by combining movement and cooperative movement with math content questionnaire. The central mat is smaller which fits nicely in the classroom environment. 60 math questions are divided into four categories and customized for every grade level, grades 3-6. The detailed manual includes QR code of all 26 activities making it to learn the activities and integrate physical activity throughout the day. Be Fit 2 Learn Skillastics Math now makes moving and learning super fun.
I'm gonna share with you how the celebrated skillastics technique works. You lay this oversized mat in the middle of a plain area. You take the same color dice and beanbag markers and lay them on the same color start button on the oversized mat. You take a group of kids and divide them into six teams, assigning each team of color, and then you put the teams away from this big mat. Each team gets a miniature mat in their team area as a reference.
When the kids are in their team area, you have them number off so they know how to take turns. The way it starts is you just say, go or turn on music, and the first child from each team comes running to their color. So six kids come running to their color, they roll their dice, whatever they roll, they land on an activity they look at, look at the activity, run back to their group, point it out on the miniature mat, and everybody in that group has to do that activity together.
How many repetitions do they do? Well on each activity, there's three different colored numbers on the bottom. They represent beginning, intermediate, or advanced repetitions. So before you even start as the instructor, you would say, today group, you're gonna do the blue amount. So the kids know that whenever they land on an activity, they're gonna do the blue amount of repetitions. So you've got six teams moving independently, but everybody moving, everybody active at one time. Now the worst thing you can do is just lay this out and say play, because the kids are not familiar with the activities yet.
So each of our skillastics activity kits include task cards, and in our instructional manuals, we have so many lead up games and activities that will familiarize the kids with the activities prior to play. Now each of our skillastics activity kits come in these convenient carriage bags. Very easy to store, very easy to transport. This is the foundation of the Skillastics program and all the variations that are a part of it.
Targets:
Five Convenient Options to Choose From:
Be Fit 2 Learn Skillastics® Math: Includes One Set of Math Grade Cards –     $179.95
Be Fit 2 Learn Skillastics® Math: Includes Two Sets of Math Grade Cards –    $239.90
Be Fit 2 Learn Skillastics® Math: Includes Three Sets of Math Grade Cards – $299.85
Be Fit 2 Learn Skillastics® Math: Includes Four Sets of Math Grade Cards –   $359.80
Be Fit 2 Learn Skillastics® Math: Includes Five Sets of Math Grade Cards –    $419.75