A Powerful Resource that Makes Moving and Learning Fun by Integrating Basketball Skill Development into a Group Game!
Created by Division I basketball player and former basketball entertainer, Sandy "Spin" Slade, Basketball Skillastics® inspires children of all skill levels to enjoy practicing the basic fundamentals of basketball. Aligned with the National Physical Education Standards and HEPA AfterSchool Guidelines, Basketball Skillastics® improves hand/eye coordination, reaction time, and cross-lateral dexterity. A perfect addition to your PE Curriculum, Camp, or After School Program, Basketball Skillastics® is touted as the perfect resource that effectively and efficiently helps many children simultaneously improve their basketball skills. These cooperative learning activities are developmentally appropriate for all kids. Add the Skillastics® Elementary or Secondary Nutritional Cards for a perfect balance of sport skill development and nutritional knowledge.
Watch it in Action! 
The signature game that originated the Skillastics Series, basketball Skillastics helps children practice basketball basics in a unique and non-competitive way. Basketball Skillastics put the fun back in fundamentals through innovative activities like blind-back catch, sit up dribbling, and yoyo dribble.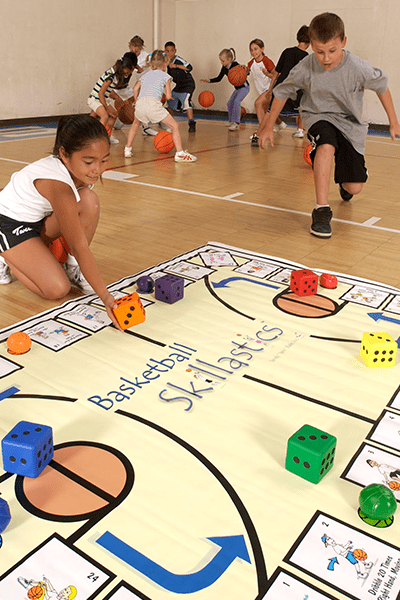 Great for: 
Physical Education
After School Programs and 21st Century Learning Programs
Expanded Learning Programs
Basketball Camps
Hoop for Heart® Fundraiser
Basketball Skillastics® Includes:
One (1), 5' x 7' Durable Activity Mat
Six (6), 20" x 27" Durable Miniature Mats
Twenty-Six (26), Laminated 5" x 7" Task Cards (for practice and familiarization)
Full Curriculum containing National PE Standards Alignment, Assessments, Rubrics, & Lesson Plans (Download)
Instructional DVD (Sandy "Spin" Slade demonstrating all 26 activities) (Download)
Six (6), Multi-Colored Foam Die
Six (6), Multi-Colored Beanbag Markers
Detailed Instructional Manual (Download)
Convenient Nylon Backpack Storage Bag
Targets: