Creating Play with a Purpose for 3-5 Year Olds that Combines Locomotor Movement, Music and Academic Learning.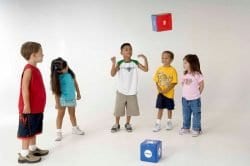 For young children, academic learning is playful and exploratory. It's ideal to create an environment where children can contribute their own ideas and problem-solving strategies. Halfpint Bilingual Skillastics® allows instructors to use play to build success while creatively integrating academic goals and objectives. Halfpint Bilingual Skillastics® incorporates oversize shape and color die, and 36 age-appropriate physical activities that are approved by Early Childhood Experts and aligned with the NAEYC Standards. The die and physical activity cards are identified in both English and Spanish.
Watch it in Action!
Halfpint Skillastics introduces young children to a variety of movement skills while encouraging creativity and imagination in a noncompetitive environment. Developmentally appropriate activities like foot circles, Frankenstein walk and galloping pony help reinforce basic movement skills as well as color, shape and number recognition.
How does it Work?
Thirty-six physical activity cards are scattered (color & shape side face up) throughout the playing area. The instructor determines what the "shape of the day" will be (heart, octagon (stop sign) or pentagon (house), and shares that shape with the children. The instructor then assigns one child to roll the shape and color die. If the child rolls a yellow/circle, the child looks for a yellow/circle card among the dispersed cards. Once the child finds the card, he/she displays it the other children and they find the "shape of the day" at the bottom of the card. The children counts the dots or recognizes the number in that shape and then everyone does that physical activity that amount of repetitions. Halfpint Skillastics® can be utilized in so many ways!
Here are a few options;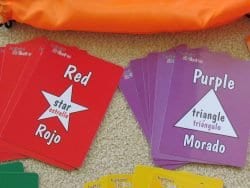 Utilize one die to highlight shape or color learning
Display activity cards throughout the day for a quick activity break
Integrate the music included that corporates 30 second musical segments of each of the 36 activities. Thirty seconds at a slow tempo and 30 seconds at a fast tempo.
Great For:
Kindergarten Physical Education Classes
Special Needs Population
Dual Immersion Classes
Pre-School Programs
Day Care Programs
Halfpint Skillastics® Includes:
Thirty-six (36), durable 5" x 7" Physical Activity Bilingual Cards
One (1), 6" Color Recognition Bilingual Die
One (1), 6" Shape Recognition Bilingual Die
Full Curriculum containing National PE Standards Alignment, Assessments, Rubrics, & Lesson Plans (Download)
Music CD (72 tracks – 30 second musical segments for each activity at a slow and fast tempo) (Download)
Detailed Explanation of Rules
Detailed Illustration on How to Teach Each Activity
Convenient Nylon Backpack Storage Bag
Targets: