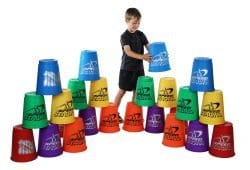 The most economical way to get your program started.  Starting a sport stacking program is easy. The Speed Stacks® Skillastics® Ultimate Package provides everything you need for a successful sport stacking program with enough equipment for your entire class to participate at once. Speed Stacks® Skillastics® Ultimate Package includes everything you see here, plus step by step instructions on how to teach your students the proper skills to be successful.
The Curriculum Guide is team based, focusing on a K-2 and 3-6 grade levels and includes age appropriate activities and videos which culminates in a school level tournament.
The Speed Stacks Curriculum incorporates use of a Sport Pack, Jumbos and Skillastics®. Speed Stacks® Skillastics® offers a unique assortment of physical activities that enhances moderate to vigorous physical activity (MVPA) while simultaneously increasing Sport Stacking agility and skills.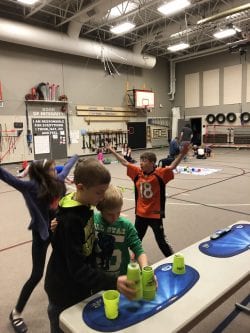 Speed Stacks is a winner of a 2018 Family Choice Award! The "Family Choice Awards" recognize the best in children's and parenting products. Now in its 21st year, the "Family Choice Award" is one of the most coveted, family friendly consumer award programs in the nation.
Speed Stacks® Ultimate Package Includes:
Speed Stacks® Skillastics®

One, 5' x 7' Vinyl Game Mat
Six, 20" x 27" Vinyl Miniature Game Mats
Six, Multi-Colored Die
Six, Multi-Colored Beanbag Markers
26, 5" x 7" Laminated Task Cards
Instructional DVD
Detailed Instructional Manual
Convenient Back Pack Storage Case

30 Set Sport Pack

30 Sets of Speed Stacks (Red, Blue, Green, Yellow, Orange & Purple)
6 StackMats (Timer and Mat), carry bag not included
Curriculum Guide
All items packed in Soft Carry Case
Online Stacking Instructions

Jumbo Stacks

36, 10.5" high X 9" diameter Jumbo Cups, 6 different colors (Red, Blue, Green, Yellow, Orange & Purple)
Watch it in Action!  
Targets: 3 – 8 Grade