More Time Engaging in the Skillastics® Improves Physical Activity Levels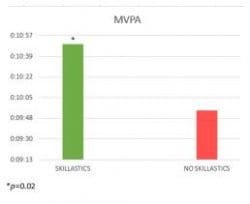 Skillastics® Sustains Movement in Fat-Burning Zone
Heart Rate Response Research to Skillastics® in Physical Education Classes 
Average Heart Rate Results
The overall average heart rate during Skillastics® was 142 bpm
Based upon the set target heart rate zone of 125-185 bpm
This average heart rate of 142 bpm in this study puts the students comfortably in the energy efficient zone. This zone is also known as the fat burning zone. This zone provides cardiovascular benefits for the students and allows them to be active for a long period of time.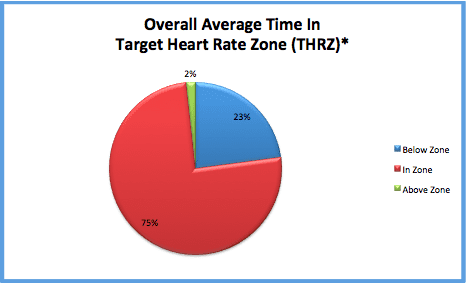 Overall view of Skillastics®:
It provided instant interest to the students. It was placed in the center of the gym as the students came in and they were immediately interested in what it was and wanted to play it.
It was

extremely easy to implement

. As soon as you teach the students how to play it and they have it down you, as the teacher, can become a participant while still keeping control of classroom management.

Technology can be integrated easily.

At the elementary level where they used Fitness Skillastics®, the teachers can access the online curriculum and activities, projecting activities on the wall, making it easier for student to learn. 
Skillastics can be used as an

instant activity or warm up

in a PE or health class. 
HalfPint Skillastics® – Pre-school PE class love it more than anything. The large dice fill up their little arms and cards are colorful and illustrated.

Having the choice to focus on colors or shapes is a great way to change things up.

I would recommend it to any Pre-School or Kindergarten classroom.
Skillastics® is that it is a great addition to any PE curriculum. It provides students with adequate time in the target heart rate zone that we should already be giving them. So, by using Skillastics® as part of any PE curriculum you have peace of mind that you are giving your students the opportunity to improve their cardiorespiratory health.
To Read the Full Study, Download Below.