The Perfect MVPA Fitness Resource that Improves Kinesthetic Learning and Challenges Middle and High School Students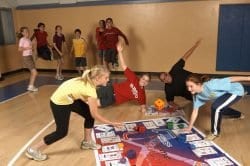 According to HealthyPeople.gov, more than 80% of adolescents do not engage in enough aerobic activity to meet the national guidelines. Unfortunately, many students are reluctant to participate in physical activities due to a number of factors;
Confidence levels low regarding abilities
Lack of family or peer support
Lack of choices in Physical Education
Inadequate equipment of facilities for activity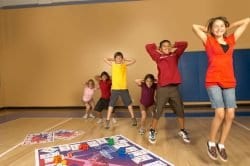 Fitness Xtreme Skillastics® provides a fun learning experience for all abilities. Students are so engaged, which takes the focus off of individuals and allows instructors to provide individual help without other students taking the time to notice. The versatility of Fitness Xtreme Skillastics® also allows for competitive play. All 26 physical activities have been approved by adolescent fitness experts and are aligned with the National Physical Education Standards and AfterSchool HEPA Guidelines.
Add the Skillastics® Secondary Nutritional Cards for a perfect balance of physical activity and nutritional review.
Watch it in Action!
Fitness Xtreme Skillastics helps older students to achieve higher fitness level by making routine exercises cool and engaging. An ideal preparation tool fitness grabs standardized fitness testing. This kit can be used in competitive and noncompetitive formats. A detailed instruction manuals out wide options to raise intensity level for other children who wanted greater challenge. Age-appropriate activities and design made Fitness Xtreme Skillastics a hit for pre-teens and teenagers alike.
Great for:
Physical Education
AfterSchool and 21st Century Programs
Expanded Learning Programs
Lifestyle Fitness Programs
Preparing for FitnessGram® Testing
Fitness Xtreme Skillastics® Includes:
One (1), 5' x 7' Durable Activity Mat
Six (6), 20" x 27" Durable Miniature Mats
Twenty-Six (26), Laminated 5" x 7" Task Cards (for practice and familiarization)
Full Curriculum containing National PE Standards Alignment, Assessments, Rubrics, & Lesson Plans (Download)
Instructional DVD (High School students demonstrating all 26 activities) (Download)
Six (6), Multi-Colored Foam Die
Six (6), Multi-Colored Beanbag Markers
Detailed Instructional Manual (Download)
Description of each activity and why that activity helps prepare for FitnessGram® Testing
Muscle group recognition activities included
Convenient Nylon Backpack Storage Bag
Targets: