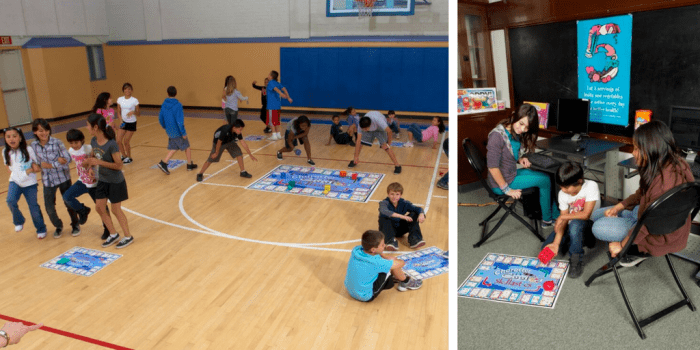 Cooperative Learning and Team Building Activities that Focus on Social and Emotional Learning

Character is Cool Skillastics® creatively integrats character traits such as sportsmanship, respect, responsibility, teamwork, caring and honesty into the celebrated Skillastics® technique. Each of the 26 physical activities are associated with a specific character trait, allowing instructors to build on each character trait, helping students to become their best selves and to achieve their best work. The physical activities for children that are included in this cooperative learning environment provide the tools for each child to strive for.
The digital mindfulness lessons individually highlight each of the 26 activities.  The mindfulness specialist talks about the activity, why it's associated with the character trait, and elaborates on lessons that can be learned from the experience.  This 5–7-minute mindfulness lesson balances movement and SEL perfectly.   It even allows students the option of journaling about the experience.
Watch it in Action!  
Great for:
Physical Education
AfterSchool and 21st Century Learning Programs
Expanded Learning Programs
Bully Awareness Programs
Character Education Initiatives
Character is Cool Skillastics® Includes:
5' x 7' Oversize Mat
6, (20" x 27") Miniature Mats
26, Laminated Task Cards (used for practice and familiarization prior to play)
Curriculum Unit containing National PE Standards Alignment, Assessments, Rubrics, & Lesson Plans (Download)
26, 5-7-Minute Digital Mindfulness Lessons – Project on wall or screen or can be used remotely (Online)
Colorful, Detailed Instructional Manual (includes assessment exercises) (Download)
Animated Instructional DVD (includes examples of how to do each of the 26 activities and why each activity is associated with that activity) (Online)
Talking points that help the instructor expand on the character traits and how they transfer into everyday life.
6, Multi-Colored Foam Dice
6, Multi-Colored Beanbag Markers
Convenient Storage Backpack
Targets: