Combining Science, Technology, Engineering and Math Content Questioning with Physical Activity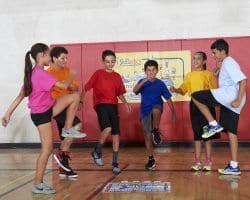 Research reveals that 85% of students are kinesthetic learners, and that retention of new ideas are enhanced when children are moving. STEM Skillastics® was created as a collaborative learning activity that integrates physical activity and STEM questioning. Student's all learn differently, so providing collaborative learning activities in a positive environment help increase learning outcomes. STEM Skillastics® is a student's fitness program that supports a variety of learning needs to the benefit of all. STEM Skillastics® incorporates the innovative Skillastics® technique with STEM questioning that compliments the Next Generation Science Standards, and is aligned with the National PE Standards and HEPA After School Guidelines.
Watch it in Action!  
Want to customize your STEM questions?
Purchase our STEM question card template to integrate an endless mixture of your own questions!
You can view STEM Question Card Template purchase option AFTER you purchase STEM Skillastics®.
Click to Enlarge Images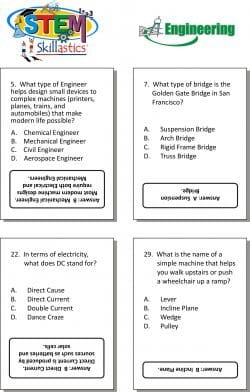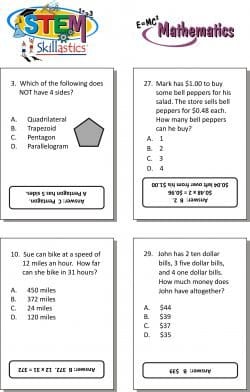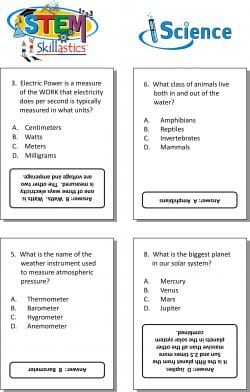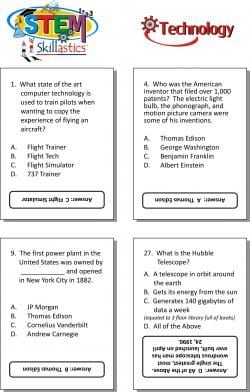 How You Integrate STEM Knowledge with Physical Activity
After teams complete the activity together, the child that rolled the dice looks at the color border around the activity just completed on the team's miniature mat. This child matches the color of the border to one of the STEM Card Categories, picks a card from that category, and reads it to his/her teammates. (i.e. A blue border indicates a science question.  Blue = Science, Red = Technology, Green = Engineering, and Purple = Math) The team answers the true or false, or multiple choice question. When completed, the process is repeated with another member of the team.
Great for:
Physical Education
After School and 21st Century Learning Programs
Expanded Learning Programs
STEM Classes
STEM Camps
STEM Skillastics® Includes:
720 STEM Question Cards (120 questions separated into 30 questions for each Science, Technology, Engineering, and Math Category)
Full Curriculum containing National PE Standards Alignment, Assessments, Rubrics, & Lesson Plans (Download)
Instructional DVD that Includes Children Demonstrating Each of the 26 Physical Activities (Download)
Colorful, Detailed Instructional Manual (Download)
26, 5" x 7" Laminated Task Cards (used for practice and familiarization prior to play)
6, Durable Miniature Mats (20" x 27")
6, Multi-Colored Foam Dice
6, Multi-Colored Beanbag Markers
Convenient Storage Backpack
Targets:
3rd thru 6th Grade (However, it works perfectly for Middle and High School remediation students as well)
Sound Bites of 3rd Graders After Playing STEM Skillastics®: