Buy together and save! Aligned with the National Physical Education Standards and HEPA AfterSchool Guidelines, the USTA approved Tennis Skillastics® improves hand/eye coordination, reaction time and cross-lateral dexterity using tennis games. A perfect addition to your PE Curriculum, Camp, or AfterSchool Program, Tennis Skillastics® is touted as the perfect resource that effectively helps many children improve their tennis skills in a non-threatening, non-competitive environment. This Tennis Skillastics® Package makes large group management a breeze, with everything you need to teach Tennis skills effectively.
Add the Skillastics® Elementary or Secondary Nutritional Cards for a perfect balance of sport skill development and nutritional knowledge.
Watch it in Action!
A perfect complement to the USTA's kids' tennis clubs and school programs. Tennis Skillastics inspires interest in this sport through activities such as roundabout, balancing at, and racquet quickness. The detailed manual includes class management techniques that makes teaching tennis easy even without a net.
Highlights:
Great for:
Physical Education
After School Programs and 21st Century Learning Programs
Expanded Learning Programs
Tennis Camps
Tennis Clubs
Tennis Skillastics® Equipment Package Includes: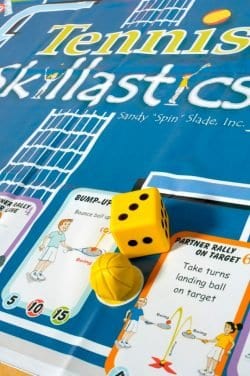 24, 23" durable aluminum construction junior series tennis racquets
12 dozen (144 balls), QuickStart 36' Foam Balls
Tennis Skillastics®
One (1), 5' x 7' Durable Activity Mat
Six (6), 20" x 27" Durable Miniature Mats
Twenty-Six (26), Laminated 5" x 7" Task Cards (for practice and familiarization)
Full Curriculum containing National PE Standards Alignment, Assessments, Rubrics, & Lesson Plans
Instructional DVD (Children demonstrating all of the activities) (Download)
Six (6), Multi-Colored Foam Die
Six (6), Multi-Colored Beanbag Markers
Detailed Instructional Manual (Download)
Convenient Nylon Backpack Storage Bag
Targets:
Contact us to upgrade the tennis equipment or to get a customized quote!
"The Innovative Skillastics® format is ideal for introducing tennis skills to large groups of children without the need for tennis courts. Through an exciting mix of tennis and fitness activities children of all abilities will be able to develop skills quickly, gain confidence, and acquire a love of the game that can last a lifetime."
United States Tennis Association