An Excellent Teaching Tool Approved by the USTA and Created to Enhance Interest in a Lifetime Sport
Tennis Skillastics® provides children the opportunity to experience the game of tennis in a fun, non-threatening and structured environment. It is a powerful, collaborative learning activity that increases children's curiosity when picking up a racquet for the first time. The 26 developmentally appropriate activities include a mixture of tennis skills for individual improvement, partner and team participation. These exercise games are developmentally appropriate for all kids. Aligned with the National Physical Education Standards and HEPA AfterSchool Guidelines, Tennis Skillastics® increases hand/eye coordination, improves fine and gross motor control, and fosters team-building and social skills.
Add the Skillastics® Elementary or Secondary Nutritional Cards for a perfect balance of sport skill development and nutritional knowledge.
Watch Tennis Skillastics® In Action Now:

A perfect complement to the USTA's kids' tennis clubs and school programs. Tennis Skillastics inspires interest in this sport through activities such as roundabout, balancing at, and racquet quickness. The detailed manual includes class management techniques that makes teaching tennis easy even without a net.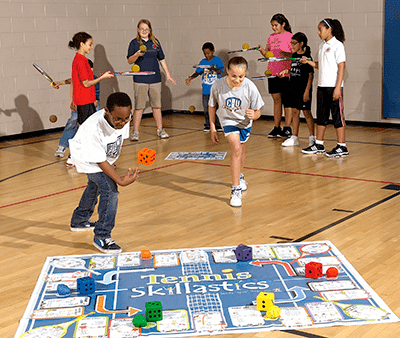 Great for:
Physical Education
After School and 21st Century Learning Programs
Expanded Learning Programs
Kids Tennis Clubs
Tennis Camps
Targets: 
Tennis Skillastics® Includes:
One (1), 5' x 7' Durable Activity Mat
Six (6), 20" x 27" Durable Miniature Mats
Twenty-Six (26), Laminated 5" x 7" Task Cards (for practice and familiarization)
Full Curriculum containing National PE Standards Alignment, Assessments, Rubrics, & Lesson Plans (Download)
Instructional DVD (Children demonstrate all 26 activities) (Download)
Six (6), Multi-Colored Foam Die
Six (6), Multi-Colored Beanbag Markers
Detailed Colored Instructional Manual (Download)
Convenient Nylon Backpack Storage Bag
Tennis Skillastics® Highlight Video