A Mega Pack of Nutritional Based Questions That Get Children Excited About Healthy Eating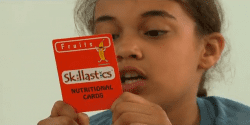 Increasing children's knowledge about nutrition is essential in the development of healthy eating. Skillastics® Elementary Nutritional Cards include colorful images, true/false and multiple choice questions that enhance curiosity and make nutritional learning fun. These questions are from each of the food groups (Grains, Protein Foods, Dairy, Vegetables, Fruits, AND also includes Oils and Empty Calories categories). Whether integrated with Skillastics® Activity Kits, exercise games, or used alone, nutritional education has never been so enjoyable!
How Do You Integrate Skillastics® Elementary Nutritional Cards and Skillastics® Activity Kits?
After teams complete the activity together, the child that rolled the dice looks at the color border around the activity just completed on the team's miniature mat. This child matches the color of the border to one of the 7 nutritional question cards triangle color located in the top left-hand corner of each card. (These cards are placed in category piles next to each team's miniature mat). He/she then picks that card and reads it to his/her teammates. The team answers the true or false, or multiple choice question. When completed, the process is repeated with another member of the team.
Watch it in Action!  
Great for:
Physical Education
AfterSchool and 21st Century Learning Programs
Coordinated School Health Programs
Skillastics® Elementary Nutritional Cards Include:
360 Total Nutritional Question Cards
60 Questions for Each Team
10 questions for each food group (dairy, protein foods, fruits, vegetables, grains)
5 questions each (oils and empty calories)
Additional Nutritional Card Options
Detailed Rules on Skillastics® Activity Kit Integration
Convenient Storage Box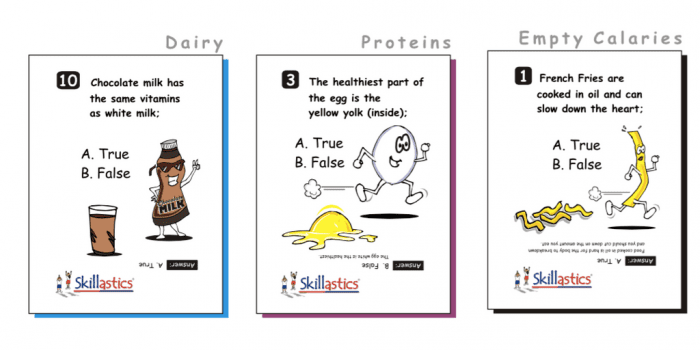 Targets: