A Mega Pack of Nutritional Based Questions That Get Children Excited About Healthy Eating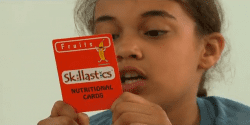 Increasing children's knowledge about nutrition is essential in the development of healthy eating. Skillastics® Elementary Nutritional Cards include colorful images, true/false and multiple choice questions that enhance curiosity and make nutritional learning fun. These questions are from each of the food groups (Grains, Protein Foods, Dairy, Vegetables, Fruits, AND also includes Oils and Empty Calories categories). Whether integrated with Skillastics® Activity Kits, exercise games, or used alone, nutritional education has never been so enjoyable!
How Do You Integrate Skillastics® Elementary Nutritional Cards and Skillastics® Activity Kits?
After teams complete the activity together, the child that rolled the dice looks at the color border around the activity just completed on the team's miniature mat. This child matches the color of the border to one of the 7 nutritional question cards triangle color located in the top left-hand corner of each card. (These cards are placed in category piles next to each team's miniature mat). He/she then picks that card and reads it to his/her teammates. The team answers the true or false, or multiple choice question. When completed, the process is repeated with another member of the team.
Watch it in Action!  
The skillastics nutrition cards improve nutritional literacy, and they make nutrition learning fun for children. Every one of our nutrition questions are aligned with my plate, and they're approved by registered dieticians. So how do these cards work? Well, when playing skillastics, each team gets their own set of nutrition cards that match their team color. And in the upper corner of that of each card, there is a triangle with a different color. Those colors match the border colors that are around the activities on the skillastics map. So when the children are playing skillastics, they roll the dice, they get an activity, they land on an activity, and the whole group is doing the activity. And when they're done, the child that rolled the dice gets to be the teacher of the moment. They look at the border color, let's say it's green. And then they would look at their cards and they would pick the card that has the green triangle. The green usually represents vegetables, so they would pick a vegetable card, ask the group a true false or a multiple choice question the group answers and then they give them the correct answer because they have it at the bottom of the cart. Now normally, those answers also have a supporting fact that they can share with their group as well. When they're done, card goes in the bottom of the pile. Next kid runs up and repeats the process. Now these nutrition cards are used in throughout our lesson plans are obviously used when they play the big skillastics activity as well. So it's nicely woven through the program. So these kids can have fun while they're learning nutrition. In addition to these cards, you can also purchase our custom card download that will allow you to customize these nutrition cards. So whatever questions that you want to ask them about nutrition, all you need to do is upload it to your computer. And then you're gonna write in the questions and the answers that you want to ask the kids. Another is kind of clever way to use these as you might want to connect with your classroom teachers, right. So you they may be learning something about nutrition in the class, and you're going to ask them Hey, do you have these questions? You have a test coming up? Sure, pop those questions and answers in and while the kids are playing, they're going to be studying for their upcoming test. So again, this is a great way to have children have fun while they're learning nutrition.
Skillastics Nutritional Cards integrate with the number of Skillastics kits, these cards include over 100 questions concerning food groups, calories, fats, cardio sorted by food groups and activity colors then with each roll the dice children answers questions to advance to the game while improving the nutritional know-how.
Great for:
Physical Education
AfterSchool and 21st Century Learning Programs
Coordinated School Health Programs
Skillastics® Elementary Nutritional Cards Include:
360 Total Nutritional Question Cards
60 Questions for Each Team
10 questions for each food group (dairy, protein foods, fruits, vegetables, grains)
5 questions each (oils and empty calories)
Additional Nutritional Card Options
Detailed Rules on Skillastics® Activity Kit Integration
Convenient Storage Box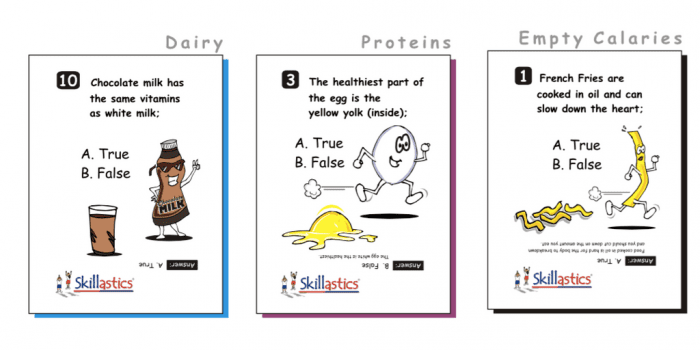 Targets: