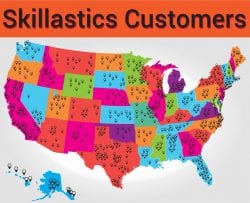 Skillastics® is the perfect fit for any PE Curriculum and is aligned with the National Physical Education Standards and HEPA After School Guidelines.
Our goal is to get kids active while having fun across the nation!
Here's what people are saying about Skillastics!

We have implemented Skillastics at all elementary expanded learning program sites within our district. Our students having a blast and Skillastics is changing their attitude about physical activity! It is extremely easy for our staff to implement and ensures that we are meeting our goal of 30-45 minutes of moderate to vigorous physical activity each day!
"My ASES staff is so excited about the awesome Skillastics training! Today they had about 75 kids having great fun and education time using Skillastics. Thank you!!!"
"Skillastics has allowed us to easily incorporate nutritional information and discuss physical fitness. It is very user friendly and easy to modify to meet the multiple needs of students."
"Kids are loving Skillastics®! It was the best purchase of the grant that we have spent to date!"
"Thank you for Basketball Skillastics! Although I know how to handle the basketball, it was a great help due to my recent sickness. The instructional DVD was a great way to show my students how to perform a basketball skill and then follow the steps. Basketball Skillastics was a lot of fun! Now my students ask to play it all the time.
My school is one of the smallest in Caddo Parish, Louisiana so we only have one basketball goal. Basketball Skillastics was a great substitute for my basketball unit with limited equipment.
The different levels of repetitions options gave a chance for my weaker students to still participate and not be intimidated by higher level students. All the items are made from good quality materials and are easy to understand and handle. Over all 10 out of 10. I would recommend Basketball Skillastics to all P.E. teachers. Thank you."
Sandy Slade came to do a training with the entire ICEF PE staff on her Skillastics program and kits. The entire 2 hours had everyone fully engaged in developing various physical skills and working in teams to answer academic questions. Staff was so excited to order multiple kits for each of their schools. Since we had our training I had the opportunity to use the STEM Skillastics with a 5th grade teacher and his class. All students were engaged in physical and cognitive activity throughout!!!!!!
"Kids are loving Skillastics®! It was the best purchase of the grant that we have spent to date!"
"This is an evidence-based physical activity game that youth ALL school age can do. We purchased two of the games last year with our OJP Grant. Our kids, even our middle school kids, enjoy playing it. The best thing is it keeps them moving – all of them moving at one time in an organized fashion! You can also play this game with as little as 6 kids to 100 kids. The more kids playing the more fun it is. We play it in the gym but it can be played in small spaces as well!"
"We have had our Fitness Fun Zone for a few years and our students enjoy it. The ease of use allows any teacher to use the Fun Zone with students. The lesson can be casual as an alternative to free play or as structured as a PE class. In addition, the lively colors and fun design brighten up our playground."
"They really love it. I walked in the kids doing the Fitness set yesterday and it was (not only hilarious for me to watch) but very inclusive and fun. The kids seemed to be having a blast and I can't wait to start some of the other sports."
"Skillastics is a blast!!! The kids had so much fun and we had a great discussion about teamwork and encouraging one another. The students worked together in a way I haven't seen yet the year. It was refreshing and uplifting to see them so engaged! What an awesome game!!!"
"LA's BEST services 194 LAUSD schools in Los Angeles…We have implemented Skillastics® to our upper grades (3-6) as a tool to stay fit and healthy with fitness base movements. We wanted a resource to help our 5th graders increase their FitnessGram scores and also have fun while exercising. Skillastics® is a great and effective tool for our leaders to use. It is quick and simple to learn and our kids love it!"
"No matter how large the class, everyone can enjoy the activities, while working in small group settings."
"Need a solution for a learner-centered instant activity that provides fitness benefits? Skillastics® is it! I require my pre-service teachers to employ one Skillastics® for every Elementary PE lesson they design and deliver. You will not be disappointed."
"I cannot remember a time when a resource has motivated our students to achieve moderate to vigorous physical activity in such a fun, educational way. Skillastics® has helped transform my K-5 schools and is a vital part of my curriculum."
"Miami-Dade County Public Schools provides a comprehensive physical education to all students through daily elementary physical education. We place a concerted emphasis on the fitness education model to ensure that all students have the opportunity to maintain appropriate fitness levels, while engaging in quality physical education. Fitness Skillastics® provides the opportunity for us to meet our instructional objectives through quality and fun programming".
"I love the idea of creating a cooperative activity in Physical Education that emphasize character traits! Physical Education is one of the best places to teach students about Character, and Skillastics® is another great piece to motivate the students on positive character and teamwork behaviors. The students at my school have enjoyed the Basketball Skillastics®, Soccer Skillastics® and Volleyball Skillastics® so much Character is Cool Skillastics® is a wonderful addition!"
"We have all of the Skillastics® Acitivity Kits and love them so we purchased Character is Cool Skillastics® to use at the beginning of the school year. We like Character is Cool Skillastics® because our district requires all Physical Education Teachers to also teach reading class where we spend approximately 2 weeks discussing bullying, Character Education and suicide prevention, so Character is Cool Skillastics® fits nicely into the curriculum."
"As a Physical Educator and recently the Director of a Physical Education grant, the Character is Cool Skillastics® kit caught my attention. I reviewed the materials and immediately knew that our school system would benefit from the unique and innovative activities found in the kit." "Character is Cool" can be used in any part of a lesson, at any time of the school year, to reinforce character traits, personal and social responsibility skills, as well as the opportunity to improve individual fitness. Our school system has purchased a dozen kits to be piloted in the physical education and core subject classrooms. We anticipate that the use of "Character is Cool" will not only expand the students' social, and character skills through the cooperative physical activities, but also assist the teacher in promoting a positive classroom environment that supports physical and academic success."
"We love the Skillastics® activities! Most of our KidREACH sites meet at churches where we don't have the space, gym equipment, or storage for some physical activities. Skillastics® is wonderful because it doesn't take much space to use, it requires little equipment, and stores compactly. It has been the perfect fit for us!"
"I have been fortunate to observe many of the Skillastics® activity kits being used by teachers to promote fitness and skill development. The materials are professional and attractive; children naturally gravitate to the wide variety of activities. The kits offer a positive experience for all students and promote lifetime physical activities. I personally feel Skillastics® should be a part of every school program."
"Skillastics® gets all the students so pumped to get active. They come in and see it laid out on the floor as the warm up activity and they get so excited! Before they know it they are moving and getting sweaty! They enjoy it so much that I got Sandy Spin Slade, Inc. permission to inlarge the activities and made them into poster size images and use them for our warm up when we do not have the Skillastics® game that we borrowed from another school. It is so much fun to see every student active no matter what their ability is. I love it! Thank you!"
"With Skillastics® my students are always moving and learning at the same time. My students are getting the physical activities they need and their skills have improved. The students have learned to take turns, listen to others and not always be the talker. Each one feels important and a part of the team."
"Recently at the Boys and Girls Club we had 30 volunteers from the administration of a local large retail business come in for a special event and I ran the Basketball Skillastics® for all the adults, parents and youth and it was a blast!!! It was by far the most entertaining activity that was put on that night. Everyone absolutely loved it…thank you for developing such a great all around program!"
"We are using Skillastics® activity kits during the Before School Program and the students are enjoying themselves. We love Skillastics®!"
"…The great thing about our initial session with Basketball Skillastics® is that it gave the average and below average kids a chance to shine because the Skillastics® method allowed an overweight girl to excel because she could count out her number of dribbles with confidence and also receive exercise in a fun way."
"I teach a toddler's creative movement class. The children get so excited when they see the Halfpint Skillastics® Dice come out of the bag. Halfpint Skillastics® really gets them moving in ways they haven't thought of. It's fun to watch them learn how to use their bodies. The children always have an awesome time!"
"My 4-H clubs have loved using Fitness Skillastics®. There is never a dull moment, nor an idle 4-H member, when I bring out Fitness Skillastics®. Every 4-H member given the opportunity to participate in this activity does. It is an awesome product!"
"First of all, visually, stunning. It LOOKS COOL. So kids are attracted to bright, colorful things. The pace is constant – excellent for keeping 'em busy. Conditioning, it's A+."
"Fitness Skillastics® is an excellent way to have the students mentor and cover math and language benchmarks for K-6. … Thank you for such an awesome product."
"Skillastics® was a motivational boost to our PE classes during our basketball curriculum. The students not only had fun with it, but developed better ball-handling skills, more cooperation and a better understanding of the skills involved in basketball. Thank you, thank you, thank you for such a motivational and fun activity and game for basketball. The kids LOVED it."
"The children LOVED playing Skillastics®!!! The principal checked us out and was very impressed. The comments from the students included, "I always thought PE was boring. WOW this is really fun." Thank you for the ideas!"
"My kids loved Soccer Skillastics®! I had a student teacher who had a few weeks of lessons to fill in for, and he was a soccer player, so I gave him the Soccer Skillastics® to work into a mini soccer unit. He loved it and the kids loved it!"