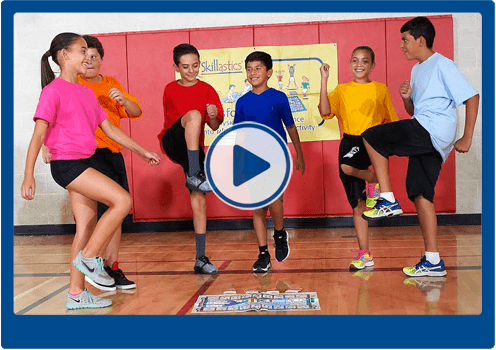 Welcome to Skillastics®
The #1 Large Group Physical Activity Resource
If you are looking for a physical activity resource that maximizes your time, seamlessly organizes large groups, integrates academic and nutritional concepts, and is something students absolutely love, then you've found what you've been looking for!
There is no other large group physical activity resource like Skillastics®. Imagine, an oversize board game that functions as an innovative twist on circuit training and designed to engage up to 100 students at one time. There are 13 Skillastics® Activity Kits ranging from general fitness, to sport-skill development, character and academic themes.
For over 16 years, instructors working in more than 25,000 educational setting nationwide are enjoying the Skillastics® method and all the benefits it provides.
Whether you are an instructor working with large groups or in a classroom setting, Skillastics® can be used multiple ways to enhance physical activity and accelerate learning all year long!
BENEFITS OF SKILLASTICS:
Allows for maximum participation in a non-competitive, all-inclusive, super fun environment
Incorporates academic principals like STEM, math, reading, and muscle recognition

Aligns with the Physical Education Standards and HEPA After School Standards 2.0
Thirteen (13) Activity Kit Variations to Choose From!
Skillastics® developmentally appropriate kinesthetic learning activities are perfect for any PE Curriculum or After School Program and are aligned with the National Physical Education and HEPA Guidelines.

Each Skillastics® Activity Kit improves learning outcomes and assists children into developing into physically literate, responsible, and productive adults.
Our Video Resource Library is full of great tools to see Skillastics in action.
Interested in seeing how Skillastics might fit in your program?
Visit our Shop to learn more about our products!