My name is Sandy Slade, President and Founder of Skillastics. For over two decades I spent my time performing for thousands at NBA and College half-times, school assemblies and special events around the world as a professional basketball entertainer.
I realized that being a professional athlete had its physical limitations; so I began to think about other issues I was passionate about.
There were a number of things that weighed heavily on my mind…
1. The disturbing decline in children's fitness levels
2. The considerable increase in childhood obesity
3. And the reduction of physical education classes and collaborative learning activities nationwide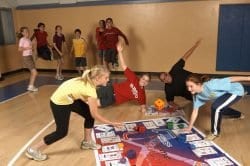 With these issues as my inspiration – Skillastics was born, and I am proud to say that since its introduction in 2002, over 25,000 schools, after school programs, camps, and community-based organizations are currently enjoying Skillastics and the benefits it provides.
Schools and organizations that have introduced Skillastics into their curriculum or program have found children look forward to participating 93% of the time. Additionally, children's overall average heart rate while participating in Skillastics was 142 beat per minute, which provides maximum cardiovascular benefits while allowing children to be active for longer periods.
Benefits of Skillastics:
Allows for maximum participation in an organized and super fun atmosphere
Allows instructors the

simplicity of assessment

with large groups
Aligns with the National Physical Education Standards and HEPA After School Guidelines
Thank you for taking the time to learn why Skillastics is such a valuable resource. Together, we can increase the fitness levels of children, decrease childhood obesity, and continue to provide activities that improve learning outcomes and promote healthy lifelong habits.
Skillastics offers a wide range of products to fit any environment.
Visit our shop today