NFL FLAG-In-Schools Curriculum Comes to Life with New Easy-to-Use Online Training Modules
The NFL, USA Football, GENYOUth and Fuel Up to Play 60 have teamed with SHAPE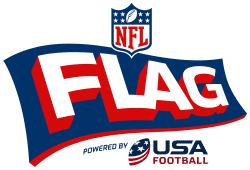 America – Society of Health and Physical Educators to develop a new NFL FLAG-In-Schools online training course for health and physical educators. Designed for use in grades 3-8, these activities align with SHAPE America's National Standards & Grade-Level Outcomes for K-12 Physical Education (PE), and are easy to integrate into existing PE curriculums or for use before, during or after school.
The popular NFL FLAG-In-Schools program aims to increase physical activity among youth by providing flag football resources to schools in underserved communities. This dynamic online course offers video-based instruction, animated lessons and tips from experienced educators to help physical educators bring this program to life for their students.
Lessons included in this curriculum are broken down into four sections that mimic a NFL player's playing experiences; Mini Camp, Organized Team Activities (OTA's), Pre-Season and Regular Season. Each lesson uses a combination of individual and small and large group skill development activities.
Seven modules are featured in the course:
Module 1 – NFL FLAG-In-Schools Program Overview
Module 2 – Lesson Format in the NFL FLAG Football Curriculum
Module 3 – Teaching Cues in the NFL FLAG Football Curriculum
Module 4 – NFL FLAG-In-Schools Game Rules
Module 5 – Sample Elementary School Activities from the Curriculum
Module 6 – Sample Middle School Activities from the Curriculum
Module 7 – Communication & Extending Flag Football Beyond PE
Get started today and put students on the path to health and physical literacy using this skills-rich, fun online course. Also available is a kid-friendly SHAPE America national standards poster to print and hang-up in schools to reinforce the lessons they have learned.
The NFL, USA Football, GENYOUth and Fuel Up to Play 60 first introduced the NFL FLAG-In-Schools Kits in 2014, resulting in 4.3 million students becoming more active before, during and after school. This year, NFL FLAG Kits will be distributed to an additional 4,700 schools nationwide, reaching approximately 2.6 million new students. The expansion was made possible by a renewed commitment from the NFL Foundation, amounting to nearly $1.5 million Each kit, which has been provided to schools free of charge, includes footballs, flag belts, kicking tees, posters and access to the online curriculum. To date, the program has resulted in 6.9 million students becoming more active in more than 13,000 schools in all 32 NFL club markets.
To learn more about NFL FLAG-In-Schools, visit FuelUpToPlay60.com. To find or start an NFL FLAG league in your community, visit NFLPlayFootball.com and for updates follow @NFLPlayFootball and @GENYOUth on Twitter.