A Spinsational Life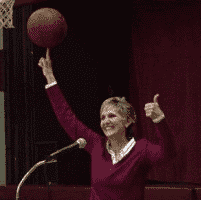 There are moments in life that are so significant, that the experience will remain clearly in your mind for the rest of your life. I experienced this unforgettable moment late last month.
My High School alma mater named its gym after me. The Sandy Spin Slade Gymnasium dedication ceremony took place on January 27, 2017. It had to be one of the most humbling experiences of my life. To be recognized in this way in the company of family, friends, classmates, former teachers and members of the community was so remarkable.
It's quite surreal to me to be honored like this, especially when all I've done is passionately pursue what I loved. In my speech, I took a moment to reflect on what that new sign, which hangs in the gym, truly represents for the students. It signifies that life has no limitations, and every student has the same opportunities to pursue his/her passion. It also symbolizes endless possibilities and taking chances in life. This can be echoed at every school throughout this country. Students have to believe that there are so many opportunities before them and if they work hard to pursue their passion, amazing things can happen. If it can happen to a girl from a small, northwestern Wisconsin town, it can happen to any child!
I want to thank all of the people in Solon Springs, WI who created an evening that I will never forget.
I also want to thank all of you – for I gain my strength and inspiration from your tireless dedication in providing an environment where all children have a positive experience being physically active. Your endless enthusiasm and passion that you display in my workshops, as well as the positive comments about Skillastics you share mean more to me then you'll ever know.
Definitely a Spinsational Life…